5 Effective Ways for You to Seize the Day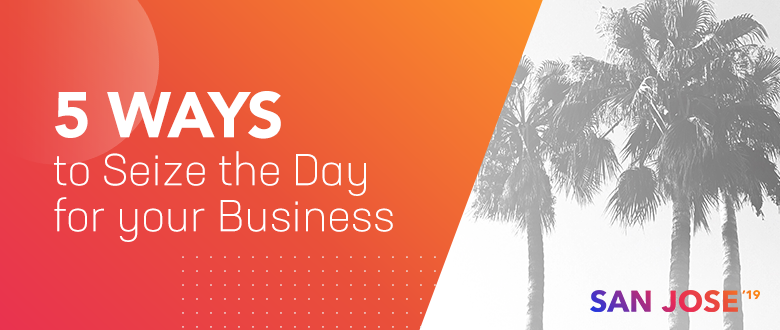 The notion of Carpe Diem - Latin, for Seize the Day - has led many a person to take a chance.
Put your name in the hat. Put yourself out there. Put it all on the line. That might mean finally starting that fitness program, planning a home renovation or even becoming an IBO with a global leader in direct sales, such as ACN!
Carpe Diem makes a great T-shirt or stencil on a coffee mug, but at its essence, it carries a lot more stakes than just a brief rally cry. To seize the day, for a business especially, there should be a plan to ride that momentum for more than just a momentary rush.
Here are five ways you can thoughtfully seize the day (and not end up with a regrettable tattoo!) and better yourself as an entrepreneur.
1-Divide your Yes from your No
If you've watched a promotion at International Training, you know that's the ultimate. That is an IBO reaching the pinnacle, the same goals you have in mind. One way to seize the day is to divide actions you do every day into two camps: Yes and No.
Ask yourself ...
Does this benefit me and my business? Is it scheduling three PBRs next week? Yes. Is it registering you and two prospects for the next International Event? Yes. Is it skipping Saturday training because you don't feel like driving? No.
What happens?
When you divide and conquer yeses and nos, you not only define clearly your path to success - you also conquer the noise and distraction of what keeps you from growth!
2-Clarify your goals
Seizing the day isn't about flying from the seat of your pants. Pinpoint your energy by paring down vague goals into specific steps. Hitting SVP becomes find 10 leaders by the 31st. Become No. 1 in ACN becomes help three new IBOs become customer qualified in two weeks.
Ask yourself ...
What smaller steps will get me to the big prize? Seizing the day then becomes ticking off those mini goals on your way. You can't hit SVP in a day; but, you can challenge yourself to talk to 10 people or start a weekly call with your team.
What happens?
You build momentum with every win you claim. Carpe Diem can change daily for you. What success you find today in finite accomplishments leads to new paths tomorrow.
3-Put the past behind
You can't seize the day if you're ruminating on yesterday. Also true if you're worried about tomorrow. IBOs will undoubtedly encounter resistance. Many question this path. Even if you've succeeded and then lost, there's hope in a new day - with the right mindset.
Ask yourself ...
Who do you believe - the voice in you that knows you can succeed at this, or the skeptics who say it can't be done? You've seen what's possible with dedication. If your past is impossible to forget, let those downfalls spur your effort today to prove your detractors wrong!
What happens?
With a fresh daily perspective, you're better able to pivot as your business needs and resources change. You're able to attend training, and eventually, offer some too.
4-Update the bucket list
Keep a note in your phone of at least five bucket list items you have in ACN. Attend a leadership tour stop. Go to International Training that isn't closest to my home. Send James Adlam a Facebook message! Review this list regularly, and when you see a chance …
Ask yourself …
What do I stand to gain? If a Co-Founder comes to a city two hours away, who could I bring on the ride? What impact will it have on that person to do the same? Also, imagine the momentum you'll gain by hitting any of those big goals, especially International Training!
What happens?
You'll find that those bucket list items don't have to wait for someday. And if you can accomplish one … what's keeping you from getting all three?
5-Face your fears
To seize the day with simple tasks isn't really seizing it. Medieval philosopher Sa'di said If the diver always thought of the shark, he would never lay hands on the pearl. Articulate, today, your greatest fear about building a business in ACN. What would it mean to conquer that?
Ask yourself …
What are your entrepreneurial pain points? What if those were out of play? Call your mentor and ask how they dealt with similar things. Check out videos about building your business like this one, and identify the parts you're least comfortable doing.
What happens?
You lead by example. Leaders in ACN you admire toppled obstacles on their way. Often, internal obstacles. You could inspire the next wave of leaders to do the same.
Again, it's not enough to lead a battle cry in the spirit of Carpe Diem without having direction. What will you do with the day? It can be great as booking your flight to the next training event, or piquing interest in the pickup line at school. How will you start?
---
Share this:
---
---